About NARH
The North Adams Regional Hospital was owned by Northern Berkshire Healthcare prior to 2014.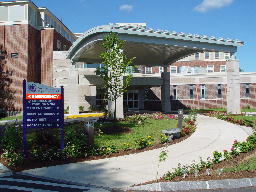 North Adams Regional Hospital is a full-service community hospital in North Adams, Massachusetts, in the heart of the Berkshire Hills. For over a century, North Adams Regional Hospital has provided the Northern Berkshire community with the finest health care available.
Our medical staff includes internists, family care practitioners and a broad range of specialists. Ninety-six percent of our medical staff is board-certified or board-eligible, which means that they have met the highest standards set by the medical profession. We have an exceptional staff of highly skilled physicians, nurses and medical specialists.
NARH is committed to excellence in health care - from the quality of care we provide to our patients to the caring that we extend to visitors. That commitment is seen in the faces of the people who serve you at NARH.
NARH is also home to the Community Art Program, which brings works by local artists to our public spaces to aid in the healing process.